Anastajia Mercy
Would you care to dance with me?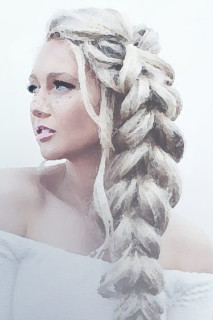 Social Rank: 7
Concept: Whimsical Dancer
Fealty: Lyceum
Family: Mercy
Gender: female
Marital Status: single
Age: 18
Birthday: 8/11
Religion: Limerance
Vocation: Dancer
Height: average height
Hair Color: ash blonde
Eye Color: pale blue
Skintone: pale porcelain with freckles.
Description: Anastajia is a young girl who always has a smile on her face. She has waist length ash blonde hair, which is usually kept in a braid dangled over her left shoulder. Her youthful skin radiates as if she were a porcelain doll, dusted lightly with freckles. Her pale blue eyes give off the impression that you can look straight into her soul.
Personality: Aiming to please and bring smiles to everyone she meets, Anastajia is a whimsical dancer in possession of a pure and sincere heart. Dreaming big, she hopes her existence can help to make the world a better place. She is always willing to listen to peoples struggles, and is she can, fill them with the warmth they need. Don't be fooled by her playful demeanor, however, as she is more clever than meets the eyes. If you believe she is easy to double cross, think again. Betray her one too many times and she will develop a grudge that will last life times.
Background: Being a young girl who has never known her parents, life has been rather difficult for Anastajia. She knew her strengths were in making people happy, and decided she would make a living out of doing just that. You may think one in a situation such as hers would lose their way in life, but she resolved to keep her head held high and take it one step at a time, literally. Entertaining people was in her blood, and with the various skills she had picked up along the way, as well as her aptitude for dance, she was able to make a enough money to get by. She may not be wealthy, and may appear to be all alone in this world, but the fact remains that she is gifted with the ability to touch the hearts of everyone she meets. Because of this, she never feels like she is alone in the world.